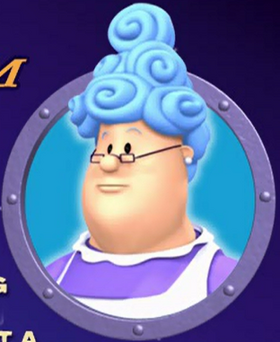 Grandmum
Species: Human
Gender: Female
Hair Color: Sky blue
Eye Color: Black
Grandmum is Jason and Michelle's English grandmother.
Bio
A former photographer for the London Evening Times, Grandmum was born in the village of Torrance in Scotland. It was there that she honed her photographic skills by doing portraits of sheep. After meeting her husband-to-be at a darts championship, Grandmum married the little man.
They then moved to the Falkland Islands where they had many, many children. After she accidentally caused the Anglo-Argentine War of '82, with her hairstyle, Grandmum decided it'll be best to move to the United States.
Personality
Grandmum is a wise woman who knows just what kind of advice to give to Jason and/or Michelle.
Physical Appearance
Grandmum is a tall human with blue hair and black square glasses. She wears a purple short-sleeved dress with a white apron, white pearl earrings, and black shoes.
Filmography
Grandmum appeared in every episode of 3-2-1 Penguins!
Voice Actors
Fun Facts
Up until Moon Menace on Planet Tell-A-Lie, she's always been faceless and only the lower half other body and her back are seen. This happened again in the T.V. series, though glimpses of part of her face can be seen.
She is the second character to have an abnormal hair color. The first being the Peach.
Grandmum is the third character to be re-voiced many times. The first and second being Lisa Asparagus and Madame Blueberry.
Gallery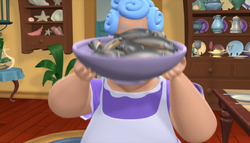 Community content is available under
CC-BY-SA
unless otherwise noted.