God Made You Special
Director(s)
Producer(s)
Writer(s)
Music by
Released

August 11th, 2007

Runtime

74 minutes

Next episode
God Made You Special is a DVD released in 2007 featuring a compilation of previously released material, along with some new scenes and a new story.
Plot
Bob and Larry decide to do a whole episode showing what they mean when they close each episode with the phrase "God Made You Special". Larry surprises Bob with balloons and party music as the rest of the veggies arrive, much to Bob's dismay. Junior comes in to share one of his favorite stories they've told, and the first segment starts.
Segment 1: "Dave and the Giant Pickle"
Larry tells Bob that they have a group of Veggie kids to interview, and they express their opinion on the previous story.
Song 1: "Belly Button" (from The Ballad of Little Joe)
Larry then introduces the next segment about Bob's Vacation from the previous year.
Segment 2: "Bob's Vacation" (exclusive to this video)
While asking Bob and Larry for food, Jimmy and Jerry recall their first episode of VeggieTales.
Segment 3: "The Gourds Must Be Crazy!" (from Are You My Neighbor?)
After this segment, we once again hear the opinions from the Veggie Kids at the playground.
Song 2: "The Yodeling Veterinarian of the Alps" (from The End of Silliness?)
Bob finally gets a chance to tell his story, and the final segment of the show begins.
Segment 4: "A Snoodle's Tale"
Bob and Larry say goodbye from the countertop, the kids talk about how God made them special, and Junior closes the video with the final song.
Song 3: "My Day" (from The Wonderful World of Auto-Tainment!) 
Home Media
Main article: God Made You Special/Home Video
Fun Facts
Trivia
My Day is the video's closing song.
There were a few differences between pre-production and the final version:

"Dr. Jiggle and Mr. Sly" was going to be included, but this idea was scrapped for unknown reasons.
There was going to be a brand new Silly Song.
The video was supposed to be in the same format as VeggieTales on TV with new scenes.

This is the first episode for a few things:

The first time the concept of interviewing kids was used since the first two Heroes of the Bible! compilations.
The first time SlimboJones animated for VeggieTales.
Goofs
When the intro animation to the main menu plays, Jimmy appears to go right through Qwerty.
Mr. Lunt was missing his teeth while the balloons were falling.
The credits lists a few things wrong:
Fast-Forward
Gallery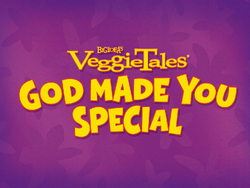 Community content is available under
CC-BY-SA
unless otherwise noted.