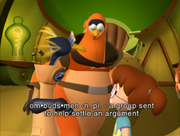 Almost every show from Big Idea would often break the fourth wall by certain characters.
VeggieTales
With the exception of the countertop segments, there would be occasional fourth wall breaks or glaces.
Netflix Series
VeggieTales in the House
Season 1
Season 2
Season 3
Takeasaurus - Takeasaurus breaks the fourth wall by saying he has Netflix when Larry asked him how he knows his name.
Ichabeezer's Granddaughter - Ichabeezer says that Laura training him to be a better grandpa would make a great episode.
Laura's Animal Babysitting Service - Pa Grape tells Laura his store is destroyed every episode, which isn't entirely true. Laura also asks the animals if they think they're in a cartoon.
Season 4
Yambot - Yambot says, "Larry-Boy? In this episode?"
VeggieTales in the City
The Rocket Boot - After failing to tell Larry, he asked the audience if they saw him trying.
3-2-1 Penguins!
Gallery
Community content is available under
CC-BY-SA
unless otherwise noted.