Daniel and the Lions' Den
Director(s)
Writer(s)
Music by
Released

December 21st, 1993

Runtime

12 minutes
Daniel and the Lions' Den is the first Bible story told by VeggieTales and the second and last segment of Where's God When I'm S-Scared?.
Plot
One night in the palace of Babylon, the Wisemen (The Scallions) are summoned to the palace of Babylon. King Darius (Archibald) appears explaining he has experienced a nightmare and wants to know what it means. The Wisemen are unable to provide an answer, but Daniel (Larry) emerges and explains the dream. He is soon promoted to second-in-command, to the disappointment of the Wisemen, who begin plotting to get rid of him.
The next morning, the Wisemen trick Darius into signing a law declaring Babylonians must pray to Darius or be thrown into the Lions' Den. Daniel is soon caught praying to God by the Wisemen, who then sentence him to consumption by the lions. An angel soon reminds Daniel that God is always protecting him.
The next morning, Daniel emerges from the Lions' Den unscathed, to the surprise of Darius and the Wisemen. Darius implements a new law stating Babylonians must pray to God, and the Wisemen, in fear of having been caught in the act, flee to Egypt, with Daniel and Darius chasing after them.
Fun Facts
Trivia
Goof
The signed document contains only a signature line and nothing else, although it's possible it does contain extra information. However, presumably because of time it's omitted.
Gallery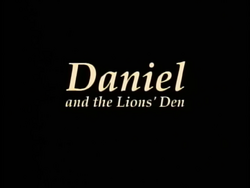 Community content is available under
CC-BY-SA
unless otherwise noted.