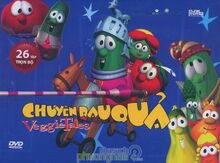 Chuyện Rau Quả (a.k.a. Câu Chuyện Rau Quả and VeggieTales: Câu Chuyện Rau Quả) is the Vietnamese voiceover of VeggieTales.
A young lady does the voiceover for this, but her identity is unknown.
Description
Chuyện Rau Quả là loạt phim hoạt hình tuyệt vời dành cho thiếu nhi, đã đạt nhiều giải thưởng giáo dục danh giá. Các nhân vật chính trong phim là những rau, củ, quả rất thân thiện và gần gũi trong cuộc sống. Qua những tập phim này các em thiếu nhi sẽ học tập được những bài học quý giá như: tính trung thực, sự tha thứ, lòng tự tin… Mỗi bài học sẽ được minh họa bằng một câu chuyện sinh động, vui tươi và hào hứng.
Chuyện Rau Quả mang đến cho các em nhiều niềm vui và hứng khởi trong học tập, giúp các em phát huy khả năng tiếng Anh.
Translations
Episodes
NOTE: An asterisk means the episode was split into 2 parts.
Fun Facts
Trivia
Goofs
A few songs in this voiceover have no Vietnamese translation.

The theme song in Larry-Boy and the Rumor Weed is, oddly enough, played without the voiceover.
"The Future Is Now" is not translated into Vietnamese, instead being played entirely in English (not counting Bob and Larry's conversations during the song).
External Links (no longer working, but will be gradually replaced over time)