Bob Lends a Helping Hand
Director(s)
Producer(s)
Writer(s)

Mike Nawrocki

Released

September 10, 2011

Runtime

74 minutes

Previous episode
Next episode
Bob Lends a Helping Hand is a special VeggieTales compilation, and is also based upon the book of the same name.
Plot
Bob and Larry are getting ready to put on a show about helping others, so Larry made himself a belt with a pair of hands and figures out that could be the point. Bob tells him that lending a hand is just a figure of speech, and tells Larry and the kids that it's the lesson on the two stories they're going to watch. He orders Larry to put on his hat, so Larry does that, but has difficulties getting it due to his new hands.
After the stories were done, Larry thanked his friend Bob for helping him out with getting his hat, and says he'll help out back whenever he needs it, just as his right hand fell off. Larry then tells the verse they learned from his left, which Bob was surprised that he wrote it down. Just as they wrap up the show, Larry's left hand broke off, with him saying "All hands on deck!".
The show then ends with a gag reel called Fun with Hands.
Characters
Stories
Fun Facts
Remarks
Goofs
Like Larry Learns to Listen, the DVD claims to have three stories, but in reality, it's only two plus a song.

Also like that DVD, the quality on the special is slightly "pixelated" when viewing it on a computer.

The credits list quite a few things wrong:

Brian Roberts isn't credited, nor is Scallion Three.
The Silly Song Announcer is credited, even though he does not speak.

Jim Poole is credited, but Omelet isn't included.
Larry's High Silk Hat is credited, but that song is not included on the DVD.

Pamela Thomas is credited in that story, but she never did any voices. It may have been mixed up with Lyle.
Gallery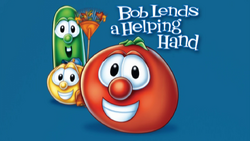 Community content is available under
CC-BY-SA
unless otherwise noted.