'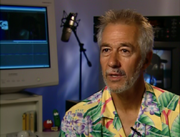 '
Bill "Yum Yum" Haljun
was in employee from
Big Idea
, and was the ninth person to join the company.
He is most recognized for catering food and refreshments at Big Idea, but he is also known for animating some of the shows as well.
He flew to Texas for Dick Leach's funeral in 2001.
It's currently unknown if he still works there.
Works at Big Idea
Fun Facts