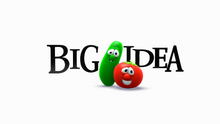 Big Idea Entertainment is an American animation production company. They are best known for producing and creating VeggieTales (along with its spin-off series) and 3-2-1 Penguins!
History
Big Idea was founded by Phil Vischer and Mike Nawrocki in 1989 under the name GRAFx Studios. The companies' original motivations was to create graphics for commercials. But Phil later decide to take the company of the direction of making a Christian-based CGI series. That same year was when Phil created the short Mr. Cuke's Screen Test and later Take 38 in 1992 to help raise funds for the new show, now named VeggieTales.
Thanks to local funding, the first episode of the series titled Where's God When I'm S-Scared? was released 1993 and later signed a deal with Word Entertainment to produce and release more episodes.
The company's earlier offices were originally located at a screw factory, before moving to Chicago suburbs in 1997 with plans to purchase of the DuPage Theater in Lombard, Illinois for a new studio, which eventually fell through and instead had to move to the rental offices at Yorktown Center in the 2000s for their new studio.
After Jonah's release and a lawsuit by HiT Entertainment, Big Idea filed for bankruptcy. Phil Vischer sold the company to Classic Media and then left the company to found Jellyfish Labs. Big Idea then moved from Chicago, Illinois to a new studio in Nashville, Tennessee.
Big Idea then switched owners a couple of times as Classic Media was being bought by different companies, before eventually getting bought by DreamWorks, renaming Classic Media to DreamWorks Classics and making Big Idea a subsidiary of DreamWorks.
Big Idea's headquarters were shut down shortly after VeggieTales in the City, wrapped up production in the summer of 2017, with only its marketing department staying alive.
But the company was later brought back when DreamWorks got bought by Universal, meaning Big Idea is no longer under DreamWorks' control. Universal then re-located Big Idea's headquarters to Tustin, California in 2018. They would later team up with Big Idea and TBN to produce a brand-new VeggieTales revival series, The VeggieTales Show, along with talks of possibly making another VeggieTales movie.
Gallery
Crew