Being Gentle Makes You Great
Director(s)
Producer(s)
Writer(s)
Music by
Released

October 30, 2020
(Yippee)

Runtime

23 minutes

Previous episode
Next episode
Being Gentle Makes You Great is the tenth episode of The VeggieTales Show, which teaches a lesson in gentleness.
Plot
Jimmy and Jerry Gourd have ruined some of the Veggie show costumes by washing them on the heavy duty, extra-hard cycle. Bob is awfully frustrated and he is not gentle with his reply to Jimmy and Jerry. But they were only trying to help! It makes for a good time for a lesson about gentle actions and gentle words. It's through the story of King Rehoboam in the Bible that the Veggies learn the meaning and importance of gentleness. As a result relationships are mended and the crew is happily back together again.
Characters
Songs
Fun Facts
Trivia
This is the first episode for a few things:

The first episode to have Madame Blueberry narrate a story.
The first episode to not have a song in the first segment.
The first appearance of Lil' Pea since It's a Meaningful Life.
Goofs
There are several instances of the characters' noses floating below their eyes.
When Madame Blueberry starts her story, she is wall-eyed.
When Jimmy says, "Like a doctor who can fix a birdie's tiny leg", his mouth doesn't move.
Lil' Pea's name is misspelled as "Li'l Pea" in the credits.
Inside References
Archibald's classy outfit is a re-colored, modified version of his Alfred costume, albeit with a top hat added.
Larry's King Rehoboam costume is a re-colored version of his Nebuchadnezzar costume from A ShakeSparagus Play.
The newspaper that Mr. Lunt reads has several screenshots from the original series. These include screenshots from:
The bird with the broken leg is re-used from The Little House That Stood.
Real-World References
The dog named Pluto that everyone mentions is a cartoon character created by Walt Disney.
Uber is a company that specializes in vehicle-for-hire transportation.
Transcript
Credits
Gallery
Images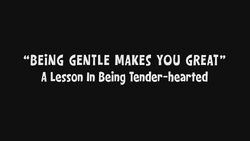 Community content is available under
CC-BY-SA
unless otherwise noted.