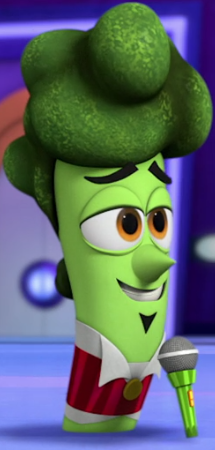 Beau Rockley
Species: Broccoli
Hair color: Green (black eyebrows and facial hair)
Eye color: Brown
Beau Rockley is a television personalty and former host of Behind Their Backs. He is the secondary antagonist of VeggieTales in the House and a minor character in VeggieTales in the City.
Bio
Beau first came to find some gossip for his show. When Larry talked a bit about Archibald, he decided to use that as fuel for his show, but Larry promised not to tell. So Beau persuaded him to tell the Mayor's secret by showing him a new bike. During the Bike-A-Thon, Beau decided to film Archibald, but fell into the kitchen sink when trying to film from above. Larry saved him and promised he won't gossip about that he can't swim, though he advised Rockley to take swimming lessons in the future.
Rockley later decided to make a new show based on Larry-Boy, though the plunger-headed hero was too tired to cooperate.
Psychical Appearance
As the name suggests, Beau Rockley is a piece of broccoli with a goatee. He wears a white shirt with a red and pink striped vest attached with a gold buckle.
Filmography
Voice Actors
Fun Facts
His name may or may not be based after Beau Sherman.
There are a few times where he is shown to be a liar:

In his debut episode, he states Jenna Chive has a voice of a horse without auto tune. But in both episodes, she can sing normally without it.
In Bob Gets Glasses, he tells Bob that the forecast is going to be warm and sunny, despite Bob saying it's not.

He becomes the secondary antagonist of VeggieTales in the House, while the main antagonist is Motato, making them a Big-Bad Ensemble. In VeggieTales in the City, he becomes Demoted to Extra with Jimmy and Jerry Gourd, Petunia Rhubarb, The French Peas, Madame Blueberry, Mr. Lunt, Bacon Bill, Tina Celerina, and other minor characters in the previous show.
Names
| Language | Name | Meaning |
| --- | --- | --- |
| English, Spanish, German | Beau Rockley | From broccoli |
| French | Patrick Ragotin | Last name is based after the French word Ragots, which means gossip |
| Brazilian Portuguese | Bo Rockley | Similar to the English name |
Gallery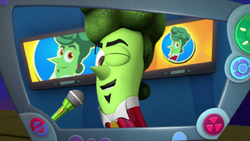 Community content is available under
CC-BY-SA
unless otherwise noted.