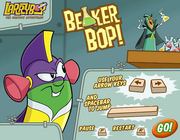 The Beaker Bop series was a trilogy of online games from the official website.
Plot
Beaker Bop 1
Larryboy has infiltrated the evil Alchemist's secret hide-out! Help Bumblyburg's hero capture the crooked scientist once and for all.
Beaker Bop 2
The Alchemist has escaped! Help Larryboy chase the villain through 10 new levels and capture him again.
Beaker Bop 3
The Bumblyburg Police just can't keep the Alchemist locked up! Chase this crafty bad guy through five more levels of mayhem, and put him away for good.
Fun Facts
This is the last game based off of the LarryBoy Cartoon series.
The games are similar to the arcade classic, Donkey Kong.
Beaker Bop 2 required a password. The password was PLUNGER.