Editing Bands and Music Groups is cancelled until futher noticed. Archibald cancelled editing Bands and Music Groups to protect vandalism or other such issues and deleting this page. If you don't think this page should be protected. Please discuss any changes to Bands and Music Groups or remove the protected tag.
This is for the list of bands and music groups seen in the Big Idea Universe.
Sumo Men Chorus
A chorus of Japanese singers who sang all the songs in Sumo of the Opera.
They only appeared in that said episode, although some of the models were used for the Gated Community Trio
Gated Community Trio
A trio of fine folks who lived in a suburban gated community. They sang alongside Larry in the Silly Song, as they're too busy discussing how their lives are great and not paying attention to the cucumber if they can toss his ball back.
Fun Facts
According to Mike Nawrocki, they were going to have the Irish Tenors do the voices. But they have scheduling conflicts and couldn't make it.
Shux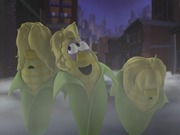 Shux
is a longed hair rock trio corn band. Their name comes from corn shucks.
They sang Rock On, LarryBoy for LarryBoy and the Bad Apple.
The main singer is Wedge, the guitar player is Stub, and the drummer is Colin. All three wear green jackets and blond hair.
Voice actors
Fun Facts
Their names were confirmed by Tim Hodge on the commentary.
Wedge is the only member to have visible eyes.
The Dodgeball Cowboy Quartet
A quartet of singing cowboys who resided outside of Dodgeball City. The main singer with the mustache is Specks, the ones with the blue and yellow outfits are respectively named Blue and Yellow, and the gourd is named Jorge.
They sang and narrated most of the songs about Moe and him being the Lone Stranger.
They only appeared in Moe and the Big Exit.
Fun Facts
Their names were confirmed by Brian Roberts in the commentary.
Jorge shares the same model as Jimmy.
Mike got the inspiration of the group from Riders in the Sky.
Originally, Specks was going to be voiced by Mike Nawrocki. But then changed it because they need an authentic cowboy singer to narrate the story.
Community content is available under
CC-BY-SA
unless otherwise noted.