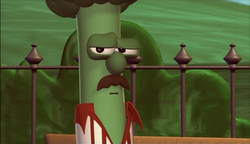 Art Bigotti
Species: Asparagus
Eye color: Brown
Hair color: Black
Art Bigotti is a bowling asparagus. 
Appearances
Trivia
The character's name was solely made to rhyme with the word naughty in It's Lenny's Fault.
Larry's High Silk Hat and Creativity City are the only times that Art Bigotti speaks. When all of the characters are singing at the end of Larry's High Silk Hat, a voice that can only be assumed to be his can be heard. When the person clicks on Art's Gallery in Creativity City, Mike Nawrocki voices the character with a Chicago accent.
Phil Vischer owns an Art Bigotti bowling t-shirt.
Gallery