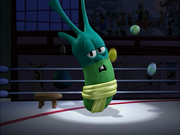 A Joking Sumo I is a song is a song from VeggieTales, and it's the second song for Sumo of the Opera.
Lyrics
A Joking Sumo, I
a lad of quips and wisecracks
who throws his custard pies back
where whoopee cushions lie.
My shenanigans are long
through every antic ranging.
And to your humors changing,
I sing my silly sooooo-OOOOOOOONG.
(nose from mask inflates)
I sing my silly...
(pop!)
...soonnnggg.
Fun Facts
Like most of the songs, this is based on a song from Gilbert and Sullivan's "The Mikado". In this case, it is "A Wand 'ring Minstrel, I".
In the script, it stars with Scallion singing "A Joking Sumee, I". However, it was changed to "Sumo" in the final.
Community content is available under
CC-BY-SA
unless otherwise noted.